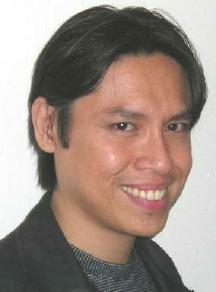 Antonio David Sison is a Filipino theologian, screenwriter and independent filmmaker. For his doctorate, he researched the confluence of Edward Schillebeeckx's eschatology and Third Cinema. He is currently in the Special Formation Program of the Missionaries of the Precious Blood in Dayton, Ohio. His e-mail is ton_sison@yahoo.com.
---
Open Letters to the New Pope:
The musings of a Filipino Catholic
By Antonio D. Sison

(Editor's Note: Global Perspective is featuring Catholics from across the globe writing open letters to the new pope.)

Your Holiness,

Kindly indulge the musings of a Filipino Catholic.

Read more letters to the pope

It has been ten years since World Youth Day 1995 in Manila, Philippines, but the sights and sounds remain alive and vivid in my memory. I was a speck in a sea of more than four million people from all over the world gathered at Rizal Park that day. The swell of "people power" would be touted as the biggest crowd in history. Clustered with a group of idealistic young Catholics from CROSS, the prayer group I helped found, I waited with bated breath for the Pope Mobile to drive by. This vehicle was conspicuously different from any the pope had used in the past. Emblazoned on its roof was the name "Francisco Motors," manufacturer of that ubiquitous Philippine public transport known as the jeepney. For Filipinos, the symbolism was profoundly meaningful -- we made Pope John Paul II ride in our very own jeepney … he was our pope!

Finally, after hours of great anticipation, the Pope Mobile was in sight. It gradually made its way through the multitude in a manner that reminded me of Moses' parting of the Red Sea. The moment was nothing less than magical. The famous passenger, with an aura of outward humility and inward assurance, smiled and waved. Each time he did, a surge of emotion swept through the crowd. People wept. When the Pope Mobile was right in front of me, I choked as I joined the impassioned chorus, "JP2, we love you! JP2, we love you!" Pope John Paul II was such an inspiring presence that a Filipino news reporter covering the event broke professional distance and bawled unabashedly on national TV.

World Youth Day 1995 was John Paul's second visit to the Philippines. I am sure you recall that his first was in 1981 for the beatification of Lorenzo Ruiz de Manila (now St. Lorenzo Ruiz) who was the first Filipino candidate for sainthood. The Philippine Church felt doubly honored because the beatification was the first such ceremony held outside of Rome. Pope John Paul II won the hearts of Filipinos with his personal touch even back then. One of the unforgettable front-page photographs of the pope's first visit captures him in a playful mood, his curled fingers pressed against his eyes to form mock binoculars as he surveyed the crowd. Hospitality is a key value in Filipino culture and this pope made us feel at home in his presence. In his two visits, the pope came as an affectionate father figure personally concerned for his struggling children.

Marginalized and ranked among the feeble runners in the blistering global socio-economic race, the predominantly Catholic Philippines was in the market for affirmation and hopeful reassurance. We felt that Pope John Paul II gave us precisely that when he opted to honor us with his warm, caring presence. He made us feel richly blessed and precious.

However, as my faith journey took me to theological studies, I found myself becoming more tentative about my perception of Pope John Paul II. The "teflon" started to thin-out as my inquisitive mind navigated through some important questions that I thought merited a more open-minded and self-assured response from the Vatican. While I do not wish to detail such contentious issues here, some catchwords include Dominus Iesus, theological creativity, gender inclusiveness, and the clergy sexual abuse crisis. Maybe I expected more of the conciliatory, fatherly love of Pope John Paul II to translate doctrinally.

Notwithstanding the many questions that had tempered my admiration for Pope John Paul II, I found myself weeping like an orphaned child when he passed away. Like surreal cinematic flashbacks, images of World Youth Day 1995 played in my mind as I witnessed the funeral rite on television. I know that this pope's passage to eternal life was accompanied by the echoes of Filipino voices chanting, "JP2, we love you! JP2, we love you!" just as they accompanied his Pope Mobile-jeepney in Manila ten years ago.

E-mail Alerts
To receive an e-mail notice when Global Perspective is posted every week, sign up here.
Click on the link at the top right of this page to send the column to a friend or colleague.

It was shortly after this integrative juncture that I witnessed your election as the new pope. Like most Catholics, I wondered how the shoes of someone like Pope John Paul II could be filled by anyone. What an unenviable position for his successor. I have to admit that I had hoped for the brilliant German theologian Walter Kasper or the socio-politically-engaged Brazilian Cardinal Claudio Hummes to be the next pope. When the senior cardinal deacon announced Habemus papam and you appeared at the balcony as Benedict XVI, the baggage of your reputation as a severe police of doctrine made me feel uncomfortable. Not a few Catholics in my circle shared my sentiments.

But the "white smoke" has started to clear since your election. I join Catholics everywhere who are beginning to envision the possibilities that your pontificate may offer. You have been described by your supporters as a "humble genius" and "a wonderful human being." We believe that it is not in your agenda to develop a papacy to match our worst expectations.

It is the opportune time to start anew.

We humbly invite you to be our pope.

May you be a living epistle, written not on tablets of stone, but on tablets of human hearts.