Jeff Guntzel and Mahasen Nasser-Eldin are in Iraq for National Catholic Reporter.
Their reports will be posted to NCRonline.org as they become available. Check the Web site regularly for updates.

---

Since 1998, Guntzel has helped coordinate Voices in the Wilderness, a campaign to end the sanctions against Iraq. He has led seven fact-finding missions to Iraq.
Nasser-Eldin, fluent in English and Arabic, has traveled to Iraq with Voices in the Wilderness, has studied the Iraqi educational system for UNICEF and as a researcher for Human Rights Watch studied the Kurds.
A trip to the market turns fateful
By Jeff Guntzel and Mahasen Nasser-Eldin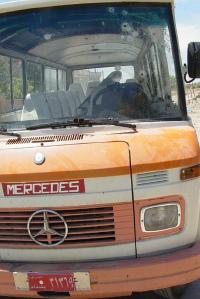 The bus bears the red plates that mark all non-military transit vehicles.
Ra'id has an orange and white Mercedes school bus. On the windshield, on the driver's side and at head level, are 11 bullet holes. The side of the bus has 19 bullet holes in it. And on the back window, just one. Inside, a bullet pierced the upper right side of a white padded seat. That is where 35-year-old Saleh, Ra'id's neighbor of many years took several bullets up and down his right side and one in his right arm. In the seat behind him, 19 year-old Jihad took five bullets to the abdomen. Hayder and Ra'id, Jihad's two older brothers, were unharmed.
Two weeks after the fall of Baghdad, the men were on their way to go shopping for groceries. Ten minutes from home, they said, U.S. soldiers lying half hidden in the grass, on one side of the street near an intersection, fired no warning shot. They said the soldiers did not wave for the bus to stop. So the bus kept moving. As it approached the soldiers, from a distance of about 10 meters, they opened up. Seconds later the bus, riddled with bullets, was rushing to a nearby hospital.
Saleh, a husband and father of two, died instantly. At Ibn al-Nafis hospital, Jihad was turned away; too many war-wounded were there already. At another hospital, he waited four desperate hours before getting the operation that saved his life.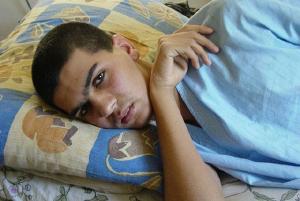 Jihad, 19, took five bullets to the abdomen.
Today Jihad lies on a couch in the family's living room. Flies feed on the fluids that leak from his stomach onto his blue hospital gown. Jihad's father, Abu Ra'id, expresses his feelings concerning what happened to his son and his dead neighbor for the first time to outsiders. And he has a question: Why did this happen?
The bus carried the red Iraqi plates that mark all non-military transit vehicles. Did the soldiers not know this? Were the soldiers scared or did they have shoot-to-kill orders? Why no warning shot or wave? Questions have become part of the landscape in Iraq.
How does Jihad or Abu Ra'id or Saleh's widow greet the American troops parked outside their door where they live or greet President George W. Bush's proud declaration that the "combat phase" in Iraq is finally over?
"Peace is the purpose of every human being," Abu Ra'id told us. "The past is better than what has come. Please tell the truth about what has happened here."