Jeff Guntzel and Mahasen Nasser-Eldin are in Iraq for National Catholic Reporter.
Their reports will be posted to NCRonline.org as they become available. Check the Web site regularly for updates.

---

Since 1998, Guntzel has helped coordinate Voices in the Wilderness, a campaign to end the sanctions against Iraq. He has led seven fact-finding missions to Iraq.
Nasser-Eldin, fluent in English and Arabic, has traveled to Iraq with Voices in the Wilderness, has studied the Iraqi educational system for UNICEF and as a researcher for Human Rights Watch studied the Kurds.
Assyrians have hope for a future
By Jeff Guntzel and Mahasen Nasser-Eldin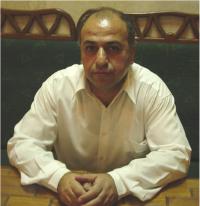 Salem Ishu Bin Yamin
Salem Ishu Bin Yamin, 43, is an Assyrian Christian. According to Salem, under Saddam Hussein's Ba'athist regime, Assyrians were deprived of their cultural and national rights. "There were only two nationalities in Iraq," he told us, "Arab and Kurdish."
Salem never joined the Ba'ath Party. That decision cost him his higher education, but today, he asserts proudly, "I believe that my nationality is Assyrian, previously I could not say that."
Originally from the northern village of Dirshki in Dahuk, which has been under Kurdish control since the end of the Gulf War in 1991, Salem has lived in Baghdad since he was six. His parents were seeking a better living and an education for their three children away from the turmoil of the north.
Salem is steeped in his Assyrian heritage and culture. He writes and reads fluent Aramaic -- the language of Christ. As a child, he studied the ancient language in summer classes at his church. He remembers vividly the trips he used to take with his parents and brothers to Dirshki to visit his family and land. He described to us intricately the traditional Assyrian dress, Assyrian way of life in the villages of Iraq, their customs and traditions. He longs for the simple community life of the peasants and dreams of returning to his village in the north.
For now, Salem will stay in Baghdad with his wife and two sons, Iman and Onil. He has a secure hotel job in a city where security is a rare commodity. His two brothers are away. One is a priest in Denmark, the other lives in Arizona. He hopes for a better future for his sons. He hopes to see Aramaic taught in the schools. He looks forward to celebrating the Assyrian New Year (April 1 on the Gregorian calendar) with them in public -- a simple freedom not allowed in Saddam Hussein's Iraq.
"In the capital of Iraq, we have an Assyrian party now representing the Assyrian community," Saleh said. He has hope. But today the only certainty in Iraq is the absence of Saddam Hussein. The absence of security, Saleh expressed, "is a concern for me as well for my Iraqi brothers and sisters."
The future for Saleh, and many like him, is foggy at best.