Jeff Guntzel and Mahasen Nasser-Eldin are in Iraq for National Catholic Reporter.
Their reports will be posted to NCRonline.org as they become available. Check the Web site regularly for updates.

---

Since 1998, Guntzel has helped coordinate Voices in the Wilderness, a campaign to end the sanctions against Iraq. He has led seven fact-finding missions to Iraq.
Nasser-Eldin, fluent in English and Arabic, has traveled to Iraq with Voices in the Wilderness, has studied the Iraqi educational system for UNICEF and as a researcher for Human Rights Watch studied the Kurds.
Is this the democracy America promised?
By Jeff Guntzel and Mahasen Nasser-Eldin

Graffiti and banners cover post-Hussein Baghdad.

Near the front entrance of the Petra Hotel, our home in Baghdad, sits a large pile of sandy brown bricks. For weeks the bricks had sealed the hotel shut in a wall that stretched the perimeter. Other hotel and shop owners had done the same thing to protect their businesses from bomb damage and looting.

Inside the hotel lobby there is a welded steel gate, a second line of defense, blocking access to hundreds of rooms.

Hotels advertise with painted banners: "Open for Business: All Services Available." A few blocks away: "Everything Stolen … Hotel Closed."

Post-Hussein Baghdad is covered in painted banners and graffiti. Outside the ransacked Ministry of Health, where employees of the ministry have been lining up to get a $20 stipend from the Americans, somebody had painted, "Iraqi Doctors Demand Their Rights."

Near a mosque, "Muslims Unite," and "Yes … Yes… Islam!" And on a tree at an intersection, "Give us back our human rights."

Many of the banners are put up by the countless political parties looking to fill some of the void left by nearly fives decades of Ba'ath Party rule. A friend took a driving tour around Baghdad and counted 35 new parties. "All you need is five people and you have a party," he told us, wide eyed. "Now I hear some of them are asking for militias!"

And then there are the familiar players. The Islamist Iraqi D'awa Party -- membership to the party under Saddam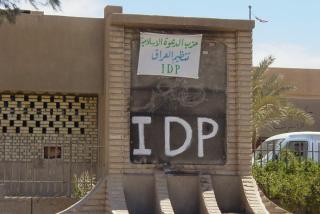 The Islamist Iraqi D'awa Party (IDP) has set up shop in several abandoned buildings.

Hussein was illegal -- has set up shop in several abandoned buildings and has marked them with "IDP" in giant white block letters.

The Patriotic Union of Kurdistan (PUK) and the Kurdistan Democratic Party (KDP) -- Iraq's two Kurdish parties with a history bouncing between tentative cooperation and vicious competition -- have made their presence known.

And at Firdos Square, where U.S. Marines famously toppled a statue of Saddam Hussein, we passed by an Iraqi Communist Party May Day demonstration.

Ahmed Chalabi, favored by many in Washington to lead Iraq through the next phase, hasn't faired well on Baghdad's walls. "Chalabi Go Home!" is not an unfamiliar tag.

Most curious was a pronouncement painted in stiff letters on the garden wall of a modest estate: "I AM THE LEADER OF THIS TOWN."

Nobody is sure where all of this posturing will lead. Some worry that the opposing parties, even those who have been in existence for years, have no agenda. After many conversations here, we are yet to find anybody who proudly pronounces membership to any of these parties -- outside of rallies and party headquarters, of course. But many ask cynically if the chaos and insecurity they are experiencing is "the democracy the Americans promised."

The façade of base democracy is certainly evident here; but so too is the potential for a self-interested minority to wrest control from the chaos. This could lead to the "tyranny of the minority" feared by the founders of American democracy.