Jeff Guntzel and Mahasen Nasser-Eldin are in Iraq for National Catholic Reporter.
Their reports will be posted to NCRonline.org as they become available. Check the Web site regularly for updates.

---

Since 1998, Guntzel has helped coordinate Voices in the Wilderness, a campaign to end the sanctions against Iraq. He has led seven fact-finding missions to Iraq.
Nasser-Eldin, fluent in English and Arabic, has traveled to Iraq with Voices in the Wilderness, has studied the Iraqi educational system for UNICEF and as a researcher for Human Rights Watch studied the Kurds.
Chaldean bishop wavers between optimism, pessimism?
By Jeff Guntzel and Mahasen Nasser-Eldin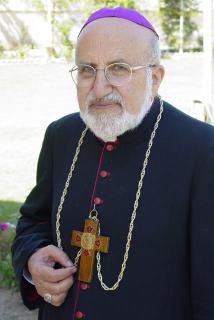 Chaldean Bishop Emmanuel Deli
Chaldean Bishop Emmanuel Deli was alone in his office talking on the telephone when an explosion blew out his office windows and sent him tumbling. It was the first night of the bombing campaign.
The bishop's compound sits across the road from a strip of towering government buildings. All of them were bombed. Bishop Deli chose to sit the war out from a nearby Church. He returned after the government's collapse to dissuade the looters who were already stripping the bombed government buildings bare.
Coalition soldiers dropped by and offered to be a deterring presence, but told the bishop that they "did not have orders to stop anybody."
"If you shoot one bullet in the air, that will stop them," he told the soldiers. Still, they could only offer their presence. "Today there is no security or peace."
"In the coming days," the bishop warned, "if they do not bring security, we will be worse off than the days of war."
Right next door to the bishop's compound sits a building now occupied by the Iraqi National Congress of Ahmed Chalabi, favored by many in Washington to lead Iraq. Chalabi's picture is taped up on either side of the entrance.
Chalibi, along with Kurdish leaders Jalal Talabani and Masoud Barzani met with Bishop Deli a few days ago. He said the four share a common vision of a secular government in Iraq.
Deli looks forward to a new constitution in Iraq that protects the cultural, social and religious rights of the estimated one million Christians in Iraq.
Under the previous government, the Koran was used to teach the Arabic language. Deli wants the language separated from religion. Also under Saddam Hussein, if a Christian woman with children from a previous marriage wed a Muslim man, all of the children -- by law -- had to convert to Islam.
In the future, the bishop said, "We will ask any new government to cancel all laws and decrees that are oppressive to Christians. And if any government establishes laws against us in the future, we will protest. That is our role now."
And so, like so many Iraqis, the bishop waits. "I am optimistic," he says first. "But things are moving slowly, and that makes me pessimistic."
For Deli, civil war is not out of the question. Much depends on the actions of the coalition over coming weeks. He warned: "In one month, if there is not a sound government in place, if there is more hunger, no income, continued looting" then the sectarian religious divides in Iraq may boil over.
"We believe that a peaceful solution could have been reached," said the bishop, looking back to a time when the Catholic Church was making efforts at mediation. "War is always destructive. It is a losing game."