Jeff Guntzel and Mahasen Nasser-Eldin are in Iraq for National Catholic Reporter.
Their reports will be posted to NCRonline.org as they become available. Check the Web site regularly for updates.

---

Since 1998, Guntzel has helped coordinate Voices in the Wilderness, a campaign to end the sanctions against Iraq. He has led seven fact-finding missions to Iraq.
Nasser-Eldin, fluent in English and Arabic, has traveled to Iraq with Voices in the Wilderness, has studied the Iraqi educational system for UNICEF and as a researcher for Human Rights Watch studied the Kurds.
Welcome to al-Sadr City! (formerly Saddam City)
By Jeff Guntzel and Mahasen Nasser-Eldin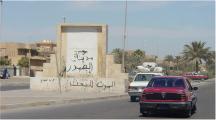 The entrance to al-Sadr City, formerly known as "Saddam City"
Under the old regime, "Saddam City," the infamous Shi'a ghetto that suffered brutal repression and massacres, was a place only whispered about. An Iraqi friend was once jailed for driving two Western photojournalists through the area, which houses 2 million Iraqi Shi'a.
It did not take the residents of the area in northwestern Baghdad long to settle on a new name for the city. A hand-painted sign at its entrance now reads, "WELCOME TO SADR CITY."
The area has taken the name of the revered Shi'a spiritual leader Grand Ayatollah Sayyid Mohammed Baqir al-Sadr, who was executed in early 1999. Saddam Hussein likely ordered the assassination of the very influential ayatollah.
We sat with Abu Kazhem and his family in their simple home in al-Sadr City on a hot Baghdadi Summer day sipping tea and talking about the life and war.
Like many other residents of the district, Abu Kazhem left the area with his family when the war began. They headed for Rus, a city 120 km to the north of Baghdad, where they stayed in a chicken coop for 10 days without access to electricity. For drinking water they used a nearby irrigation ditch.
Now they are home again, and al-Sadr City is struggling to get back on its feet in the face of liberties unimaginable under the rule of Saddam Hussein.
When Abu Kazhem remembers life in "Saddam City," his eyes turn sorrowful. He blames Saddam and his regime for neglecting to invest in the development of the district. "Saddam plucked all competent teachers from al-Sadr City's schools and appointed these teachers elsewhere, in schools where children of Ba'athists study. Our children received a very poor education and the administrations of schools in our area were corrupt."
"The Mukhabarat (secret police) and their collaborators were on every corner in our district, walking into homes and arresting people as they pleased." He remembers with particular detail the day of February 20, 1999, when the community received news that something tragic had happened to Sayyid Muhammad Sadiq al-Sadr in Najaf.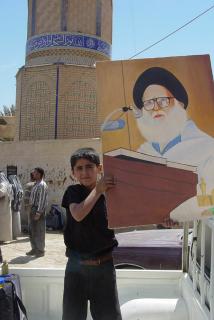 A boy holds a portrait of al-Sadr as residents of al-Sadr City prepare for Friday prayers outside a mosque.

"Our community members headed towards al-Muhsim mosque to pray for our Sayyid's recovery," Abu Kazhem remembered, "we initially received news that he was attacked only to find out later in the day that he in fact was assassinated. We confronted the regime and they opened fire on us in the mosque, spraying worshipers with bullets."

"The Sayyid is important in our lives because he was able to bring our community from darkness to light. He gave us hope and he advocated for the equality and equity of the Iraqi people regardless of religious and ethnic backgrounds." Turning back to the present, Abu Kazhem expressed relief that the days of Saddam Hussein are over. Still he is unsure about the future. What he sees on the streets of Baghdad does not give him hope. He fears the American and the British presence will turn into long-term occupation of his land's resources and people.

"We are a people who want to live in peace with the world community," he said. But there was a warning too, present in many of our conversations here: "Iraq has seen a lot of rulers and invaders throughout its history. We are resilient. The American and British occupiers will leave Iraq, if not willingly, then by force."

But it is peace that Abu Kazhem hopes for, "We are a peaceful nation and our ruler has forced us to fight wars that were uncalled for. We have gone through three wars under Saddam and I believe that peace is definitely a better choice for humanity than war."