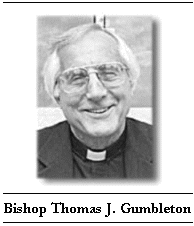 Auxiliary Bishop of the Archdiocese
of Detroit, Michigan *
* A longtime national and international activist in the peace movement, Bishop Gumbleton is a founding member of Pax Christi USA and an outspoken critic of the sanctions against Iraq.
He has appeared on numerous radio and television programs, and has published numerous articles and reports.

* Scripture texts in this work are in modified form from the American Standard Version of the Bible and are available as part of the public domain.
For your convenience, the Scripture texts, as they appear in the Lectionary for Mass for Use in the Dioceses of the United States, second typical edition, Copyright © 1998, 1997, 1970 Confraternity of Christian Doctrine, Washington, D.C., may be found at the website of the United States Conference of Catholic Bishops (USCC).
http://www.usccb.org/nab/
** The Web link to Pax Christi is provided as a service to our readers.
Editor's Note: Bishop Thomas Gumbleton is presently in Iraq on his 7th trip with a delegation organized by the "Voices in the Wilderness" campaign based in Chicago. He is unable to provide the homily for this Sunday's readings. The following message is from Bishop Gumbleton.

"This evening I will be leaving for another trip to Iraq. I will be joining with members of an organization who call themselves "Families for Peaceful Tomorrows." All of them experienced the loss of a family member on September 11, 2001. But they have adamantly opposed a violent response to that terroist attack. They want to bring about reconciliation rather than add to the atmosphere of hatred and violence. We will meet with families who have lost family members through the Persian Gulf War and the bombing that has gone on ever since, as well as from the effects of the sanctions which have caused the deaths of so many, especially children. We hope our delegation can help to build up further opposition to another was in Iraq. Please pray for me and for all on this journey. I will look forward to sharing my experience with you when I return."