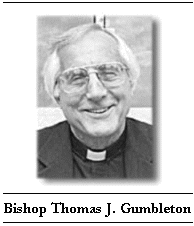 Auxiliary Bishop of the Archdiocese
of Detroit, Michigan *
1 Samuel 16:1b, 6-7, 10-13a
The Lord said to Samuel, "Fill your horn with oil, and go. I will send you to Jesse of Bethlehem; for I have provided me a king among his sons."
As Jesses and his sons came to the sacrifice, Samuel looked at Eliab, and said, "Surely Yahweh's anointed is before him." But the Lord said to Samuel, "Don't look on his face, or on the height of his stature; because I have rejected him: for the Lord sees not as man sees; for man looks at the outward appearance, but the Lord looks at the heart."
Jesse made seven of his sons to pass before Samuel. Samuel said to Jesse, "Yahweh has not chosen these." Samuel said to Jesse, "Are here all your children?" He said, "There remains yet the youngest, and he is keeping the sheep." Samuel said to Jesse, "Send and get him; for we will not sit down until he comes here." He sent and brought him in. Now he was ruddy, with a beautiful face, and handsome to look on. The Lord said, "Arise, anoint him; for this is he." Then Samuel took the horn of oil, and anointed him in the midst of his brothers; and the Spirit of Yahweh came mightily on David from that day forward.

Ephesians 5:8-14
For you were once darkness, but are now light in the Lord. Live as children of light, for light produces every kind of goodness and righteousness and truth. Try to learn what is pleasing to the Lord. Have no fellowship with the unfruitful works of darkness, but rather expose them. For the things which are done by them in secret, it is a shame even to speak of. But all things, when they are reproved, are revealed by the light, for everything that is revealed is light. Therefore it says, "Awake, you who sleep, and arise from the dead, and Christ will shine on you."
John 9:1, 6-9, 13-17, 34-38
As Jesus passed by, he saw a man blind from birth. He spat on the ground, made mud with the saliva, anointed the blind man's eyes with the mud, and said to him, "Go, wash in the pool of Siloam" (which means "Sent"). So he went away, washed, and came back seeing.
His neighbors and those who had seen him earlier as a beggar said, "Isn't this the one who used to sit and beg?" Some said, "It is," but others said, "No, he just looks like him." He said, "I am."
They brought him who had been blind to the Pharisees. It was a Sabbath when Jesus made the mud and opened his eyes. Again therefore the Pharisees also asked him how he received his sight. He said to them, "He put mud on my eyes, I washed, and I see." Some of the Pharisees said, "This man is not from God, because he doesn't keep the Sabbath." Others said, "How can a man who is a sinner do such signs?" There was division among them. Therefore they asked the blind man again, "What do you say about him, because he opened your eyes?"
He said, "He is a prophet."
They answered him, "You were altogether born in sin, and are you trying to teach us?" They threw him out. Jesus heard that they had thrown him out, and finding him, he said, "Do you believe in the Son of God?" He answered, "Who is he, Lord, that I may believe in him?" Jesus said to him, "You have both seen him, and it is he who speaks with you." He said, "Lord, I believe!" and he worshiped him.

* A longtime national and international activist in the peace movement, Bishop Gumbleton is a founding member of Pax Christi USA and an outspoken critic of the sanctions against Iraq.
He has appeared on numerous radio and television programs, and has published numerous articles and reports.


** Scripture texts in this work are in modified form from the American Standard Version of the Bible and are available as part of the public domain.
For your convenience, the Scripture texts, as they appear in the Lectionary for Mass for Use in the Dioceses of the United States, second typical edition, Copyright © 1998, 1997, 1970 Confraternity of Christian Doctrine, Washington, D.C., may be found at the website of the United States Conference of Catholic Bishops (USCC).
http://www.nccbuscc.org/nab/index.htm
A note from The Peace Pulpit:
Bishop Gumbleton was traveling last week and unable to provide this week's homily. His flight was delayed, which made it impossible for him to get back to Saint Leo Church in Detroit in time for Mass.
This week, for those of you who have never visited Saint Leo's, we have posted a few photographs of the parish from where Bishop Gumbleton gives the homily every week.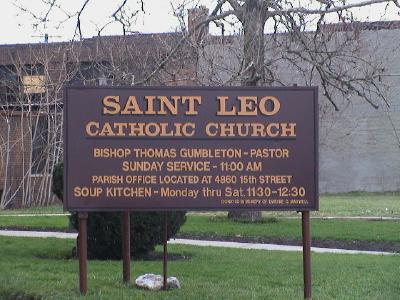 Sign outside Saint Leo Church, Detroit, Michigan.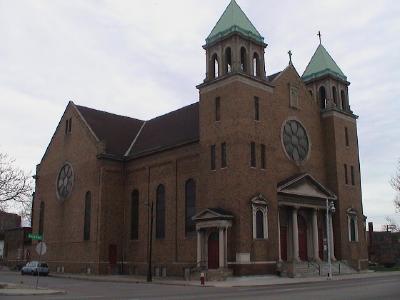 Saint Leo Church, Detroit, Michigan.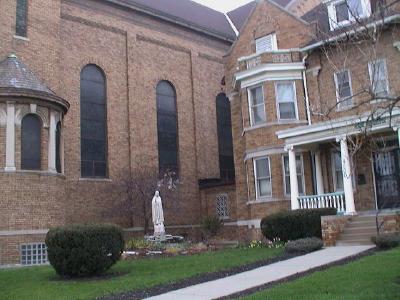 A small courtyard beside the church.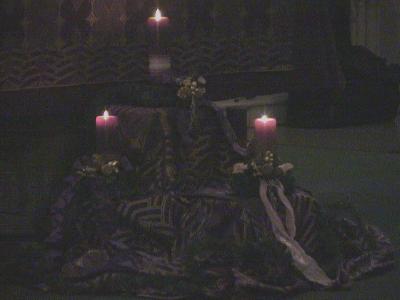 Candles in front of the altar.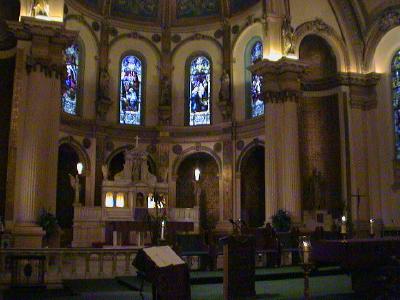 Sanctuary of Saint Leo Church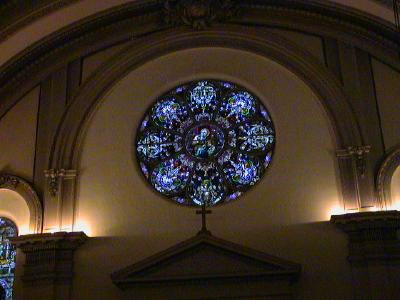 Rose window located in the back of the church.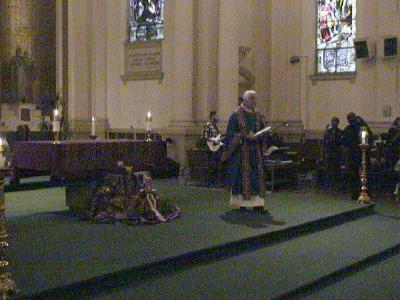 Bishop Gumbleton preaching the homily
as he does almost every week.