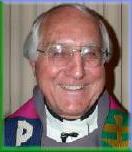 Thomas J. Gumbleton
Auxiliary Bishop of the Archdiocese
of Detroit, Michigan *


* Alongtime national and international activist in the peace movement, BishopGumbleton is a founding member of Pax Christi USA and an outspoken criticof the sanctions against Iraq.
Hehas appeared on numerous radio and television programs, and has publishednumerous articles and reports.

Dear Reader of The Peace Pulpit,
We need your help. We are pleased to make available -- at no charge -- The Peace Pulpit. But we cannot do all we need to do without your financial assistance.
Please take a moment to consider contributing to our annual appeal and join the ranks of readers who give to the Friends of NCR campaign. National Catholic Reporter is a nonprofit organization. Contributions are tax-deductible in the United States.

Contributions may be sent to:
National Catholic Reporter
115 E. Armour Blvd.
Kansas City, MO 64111
USA
Make checks out to: NCR
If you wish, you may print a form for submitting your donation.
You may also use this form for credit card donations.
OR

P.S.: Everyone who donates will receive the fourth in a series of specially designed NCR Christmas ornaments connecting us in a special way to the gospel of peace on earth. Thank you.
Editor's Note: The following is the note that appeared in the bulletin of Bishop Gumbleton's parish Dec. 4.
Dear Friends,
I am absent today because I am joining the 25th anniversary celebrations of the four church women from the U. S. who were brutally assaulted and murdered on December 2nd, 1980. Communities of faith throughout the world continue to be inspired by these four women: Dorothy Kazel, a Cleveland Ursuline Sister, Jean Donovan, a Cleveland lay missioner, Maria Clarke and Ita Ford, both Maryknoll Missioners originally from New York. Dorothy was a friend of mine and through her I came to have a first hand understanding of the struggles of the poor in El Salvador. She and the others were clearly on the side of the poor, in fact identified with them during the years of extremely violent repression in that country. And they suffered the fate of the poor. Archbishop Oscar Romero once asked: "What does it mean to be poor in El Salvador?" and he responded: "To be poor in El Salvador is to be disappeared, to be tortured and then murdered and have your body found in the street." This happened to tens of thousands of the poor in El Salvador during the time of severe repression. Most of them died without the outside world knowing it was happening. As one commentator put it, "The lives and deaths of these churchwomen shone like a brilliant spotlight which focused world attention on a dark, ominous and previously hidden shadow covering the lives and deaths of thousands of people in El Salvador. Because of the universality of their life offering and their solidarity with the poor, we salute the witness of these post-Vatican II, United States women as a martyrdom."
I trust that you will be with me in spirit as I join the thousands of others in celebrating these courageous followers of Jesus.
Peace,
Bishop Gumbleton
Don't miss a homily
To receive an e-mail notice when The Peace Pulpit is posted every week, sign up here.
Click on the link at the top right of this page to send the column to a friend or colleague.