Correspondent's Notebook #1:
Who attends World Youth Day?; Benedict arrives; Condolences to Taizé; WYD trivia and Americans in Cologne; Visa problems; Security issues; Comic relief

NCR Rome correspondent John L. Allen Jr. is in Cologne, Germany. Beginning today, NCRonline.org will post daily reports from World Youth Day. Bookmark this page or check back with NCRonline.org to read more coverage of this international Catholic event.

By JOHN L. ALLEN JR.
Cologne, Germany

Anyone who has ever attended a World Youth Day knows there are at least three sociological sub-groups among the hundreds of thousands of young pilgrims.

First are the most committed Catholic youth, active in their parishes or in movements, deeply engaged in the prayer and sacramental life of the church, many considering vocations to the priesthood or religious life. These youth do not have to be persuaded to attend World Youth Day; most would walk over hot coals to be here. For example, I ran into a delegation from Southern California on its way to World Youth Day at the 9:00 am Sunday Mass at Santa Susanna in Rome last week. There was a young man in the group who had Fides Semper tattooed in green gothic lettering on the back of his neck. This, it turned out, was not a reference to the Marine Corps motto, but to his deep Catholic devotion.

Second are those youth more marginally involved with the church. They generally attend Mass, either because their parents insist upon it or because they have a vague sense that doing so is important. They often like their pastor or youth minister, and have found a circle of friends in a Catholic campus center or parish. For them, World Youth Day is an opportunity to explore the faith more deeply, and to meet Catholics like themselves from around the world. They may not know a great deal about the pope, but most of them feel that meeting him is a "peak moment."

Read more NCR coverage of World Youth Day

Third are those youth with virtually no involvement with the Catholic Church; some may in fact not even be Catholic. For most of these young people, World Youth Day is simply a great excuse to travel overseas. In some cases, they may be attending because mom and dad would pay for this, while they wouldn't pop for tickets to Lollapalooza; in other cases, they may have friends in one of the first two groups who asked them to tag along. You can spy these kids, because during the morning catechetical sessions, for example, they're often the ones outside eating ice cream and playing hacky sack.

The magic of John Paul II was that when he arrived for the vigil Saturday night, or the Mass Sunday morning, he basically had the attention of all three groups. As a result of the experience, at least some of the youth in the third group entered the second, and some in the second moved into the first. Perhaps the numbers weren't great enough to offset the generalized Western trend towards secularization, but it was impressive nevertheless.

The test for Benedict XVI will be whether he can inspire and motivate, in his own way, but with something resembling the same effect.

Regular readers of "The Word from Rome" will recall that I broke the story on July 29 that the next World Youth Day will be held in Sydney, Australia, in 2008. In response, Australian church officials put out statements saying that official confirmation would have to await the pope's announcement on August 21.

While that may technically still be true, it's worth noting that the official World Youth Day web site posted a news item on Wednesday, August 17, titled "World Youth Day 2008 Expected to Take Place in Sydney." It noted that at a gathering of 1,600 Australian pilgrims Tuesday night, Prime Minister John Howard, in a videotaped message, expressed pleasure that the next World Youth Day will be held in Sydney.

The report noted that the motto of pilgrims from Down Under is "Stand up if you're Australian," and that they're handing out stuffed kangaroos and crocodiles as they mingle with youth from other parts of the world. A preview of things to come …

In addition to the normal Alitalia Airbus 321 the pope and his entourage took from Rome to Germany, Benedict XVI also utilized a more unconventional mode of travel Thursday afternoon to arrive at the Cologne cathedral -- a riverboat named the MS RheinEnergie, accompanied by a number of young delegates, including one group from Pittsburgh.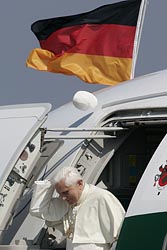 (CNS/Reuters)

A gust of wind blows Pope Benedict XVI's zucchetto off as he arrives at the airport in Cologne, Germany, Aug. 18 to attend World Youth Day.

Thursday was a windy day in Cologne, and when Benedict XVI stepped off the papal plane, his zucchetto, or small circular cap, blew off his head and back into the plane. He momentarily turned around to try to retrieve, but his secretary waved him forward. The pope gave his welcome address without it.

Later in the day, during his Rhine cruise, Benedict actually held the zucchetto in his left hand as he repeatedly waved and gestured to the crowds along either bank.

In another somewhat ominous twist, the World Youth Day Cross, which has been taken on pilgrimages to various locations around the world, including Ground Zero in New York in February 2002, fell over on the papal boat, snapping off its left arm. Emergency medical technicians who happened to be on the boat attached a piece of metal to the cross, which is roughly 10 feet tall, and put it back up well before the pope boarded.

Benedict's Thursday cruise on the MS RheinEnergie was a triumphant one, greeted by thousands of cheering and flag-waving youth on both banks of the river. The pope stood on the upper deck of his boat, smiling and waving to the gathered young people who erupted whenever he passed. (They also erupted from time to time when the accompanying press boat passed; some may have confused it with the papal vessel.) Many of the youth were dressed in the native costumes of the countries they represented.

The papal boat looked like a floating United Nations, with the flags of nations from all continents. At a certain point, some of the youth actually waded into the river to get a bit closer to the pope.

Several World Youth Day delegates offered greetings to the pope when his boat stopped for his address. The young woman who spoke in English told the pope, "We're especially happy that your first apostolic voyage is to meet youth. A young church needs young people."

She said that boat was a symbolically appropriate way of expressing the spirit of World Youth Day.

"With Christ steering, we will go in the right direction," she said.

She added that the young Catholics in Cologne are responding to John Paul II's call "to build a new civilization of love."

The pope's boat was accompanied by five other boats with participants from each of the five continents, in addition to several smaller police vessels. The boat from Oceania, for example, sported a number of Australians waving their national flag and oversized stuffed kangaroos.

Given how spread out the crowds were along the river, many of the youth didn't realize when the pope had begun to speak, continuing with their chants of Bene-detto! and various other cheers throughout his address.

The pope delivered his address to youth in multiple languages, opening in German, then speaking in English, French, Spanish and Italian.

Just as World Youth Day opened, news broke that one of its great sustainers and points of reference had been killed: Brother Roger Schutz, founder of the ecumenical Taizé Community in France.

According to news reports, Schutz was attacked by a disturbed 36-year-old Romanian woman during a liturgical service in Taizé. She inflicted three knife blows, leaving Schutz dead almost immediately. Her motives were not immediately clear, but were believed to be related to mental illness.

Schutz was a Swiss Protestant who in 1940 founded a small monastic community in Taizé, France, where Catholics and Protestants wear the same white habit and live the same common life. The community has become known for its efforts to promote Christian unity, as well as for its style of liturgical music that has become popular around the world. Today the community numbers about 100 monks from 30 countries.

Brother Roger, as the 90-year-old Schutz was known, was on hand for one of the very first gatherings of young people with John Paul II, in Rome in 1984, and the brothers of Taizé became fixtures at World Youth Day in the years that followed. During a trip to France in early July, the Secretary of Cologne's World Youth Day, Fr. Ulrich Hennes, briefed the brothers of Taizé on plans for Cologne and invited the community to participate.

Brother Roger enjoyed a close relationship with Pope John Paul II. In 1986, John Paul II visited Taizé and called the community "a little springtime." Brother Roger was received many times by the pope, most recently on March 20.

During John Paul's funeral Mass on April 8, Brother Roger, by now confined to a wheelchair, was given communion by then-Cardinal Joseph Ratzinger. The act sparked speculation about whether or not Brother Roger had been received into the Catholic Church, a question to which his followers have offered deliberately fuzzy answers. (Church rules stipulate that, in cases of "grave necessity," a non-Catholic can receive communion if he or she shares Catholic beliefs about the Eucharist, and that no minister from his or her own tradition is available).

Brothers from Taizé will continue to take part in World Youth Day events in Cologne.

On Wednesday morning, the chief organizer of World Youth Day, Fr. Heiner Koch, released a statement expressing "deep condolence" for Brother Roger's death, especially to those brothers of Taizé currently at World Youth Day.

"Brother Roger was always deeply connected the Catholic church," Koch said. "We all were glad and grateful recently when he participated in the funeral of Pope John Paul II. Now he has gone to the Father in Heaven. Our mourning is great, but our hope for the resurrection is greater."

Cardinal Joachim Meisner of Cologne announced that he would visit the Church of St. Agnes in Cologne, where the brothers of Taizé are staying during World Youth Day, to comfort them and to write his name in the book of condolences.

Pope Benedict XVI addressed Brother Roger's death during his General Audience on August 17, revealing that he had received a letter from Schutz just the day before.

At the end of his catechesis in Italian dedicated to Psalm 125, Benedict, visibly moved, said he had received that morning, "very sad news, very dramatic, that dear Brother Roger, founder of the Community of Taizé, was attacked and killed, probably by a deranged person. The news struck me all the more because just yesterday I received a very moving and friendly letter from him, in which he said that from the bottom of his heart, he was with the pope and all those in Cologne." Brother Roger could not attend World Youth Day on account of his health, but told the pope he would be "spiritually present along with his brothers."

Benedict read portions of the letter aloud in French, in which Roger expressed his desire to come to Rome, vowing that the entire Community of Taizé wants to walk together with the pope.

"In this moment of sadness, we can only entrust to the Lord the soul of his faithful servant," the pope said. "We know that from sadness, as we have just heard in the psalm, joy will be reborn. Brother Schutz is in the hands of eternal goodness, of eternal love, and has arrived at eternal joy. He warns us and exhorts us always to be faithful laborers in the vineyard of the Lord, even in sad situations, certain that the Lord accompanies us and will give us his joy."

A bit of trivia: Why is this event called "World Youth Day" even though it's almost a week long?

The answer is that the idea for World Youth Day was born in 1983, when John Paul II invited youth from around the world to join him in Rome on Palm Sunday. The first event staged under the title of "World Youth Day" was in 1986, again on Palm Sunday. As the event evolved, it rapidly outgrew its original one-day program, but by that stage the name had stuck.

One other note: In Vatican argot, "youth" refers to anyone between the ages of 16 and 30. Hence "World Youth Day" is not designed for young children, who for the most part are discouraged from attending. Official communiqués from the German organizers warn that anyone under 16 must be accompanied by a parent or legal guardian, or, in lieu of that, the sponsoring diocese, parish or organization's group leaders must assume full responsibility. Special forms have to be filled out for minors who wish to come.

The largest delegation at World Youth Day this year will by the event's end undoubtedly be the Germans, though the Italians actually led in pre-registrations with more than 100,000.

The United States is sending an estimated 25,000 youth, accompanied by 73 American bishops and all of the American cardinals except for William Keeler of Baltimore. According to Sister of St. Joseph Eileen McCann, the U.S. bishops' coordinator for youth and young adults, it's the largest American delegation at a World Youth Day apart from Denver in 1993 and Toronto in 2002, both of which were in North America.

For Americans coming for the full World Youth Day experience, the cost of a "pilgrimage package," which includes five nights' accommodation (in schools, gym halls, church facilities or with host families)18 meals, a travel ticket inside Germany valid for 7 days, an insurance plan, and a pilgrim's backpack, is roughly $208 dollars. That figure does not include travel to and from the United States.

These costs are weighted according to country of origin. Americans are numbered among the "Group A" countries, so they pay the highest price. Young people from a "Group C" country, such as Bolivia, Pakistan, or Vietnam, are paying roughly $123 for the same package.

Participants are also asked to contribute a $10 "solidarity fee" collected by the Vatican, used to offset the costs of the event and the unmet need of impoverished participants.

Given the number of U.S, military personnel stationed in Germany, a special program for American troops has been organized in conjunction with World Youth Day by the American military archdiocese, headed by Archbishop Edwin O'Brien.

Ten U.S. bishops have been selected by the Vatican's Pontifical Council for the Laity to lead catechetical sessions. The bishops include Cardinal Francis George of Chicago, Cardinal Roger Mahony of Los Angeles; Cardinal Theodore McCarrick, of Washington; Archbishop Timothy Dolan of Milwaukee; Archbishop Stefan Soroka of Philadelphia for Ukrainians; Bishop Leonard Blair of Toledo, Ohio; Bishop Blase Cupich of Rapid City, South Dakota; Bishop William Murphy of Rockville Centre, New York; and Auxiliary Bishop Jaime Soto of Orange, California.

Cardinal J. Francis Stafford, head of the Apostolic Penitentiary, and former head of the Pontifical Council for the Laity, which organizes World Youth Days, also is among the catechists. Stafford, the former archbishop of Denver, organized the 1993 World Youth Day in Denver.

The catechetical sessions are arranged by language groups and can vary in size from a few hundred to over fifteen thousand participants. They include a presentation by a bishop, interaction between the bishop and the youth, music and liturgy. Other bishops who will address English speaking youth come from Great Britain, Ireland, Australia and other countries where English is spoken. Youth groups are assigned to catechetical sites by language. Among those slated to address groups from the United States are Cardinal George Pell (Australia), Cardinal Francis Arinze (a Nigerian who heads the Congregation for Divine Worship in Rome), Cardinal Wilfrid Napier (South Africa), and Bishop Terrence Prendergast (Canada).

Five young adults from the United States have leading roles this week.

The three women include Gina DiSalvo, 22, a recent graduate of the Catholic University of America, in Washington; Maria Francisco, 28, a University of Arizona student who works as a youth minister, in Tucson, Arizona; and Mary Sturgron, 25, an administrative assistant at a non-profit organization in Chicago. The two men are Brian Hanson, 25, of Tempe, Arizona, who works for Youth Arise North America, and Chris Malano, 25, a recent graduate of the University of New Mexico.

The five Americans are among 150 participants chosen for liturgical roles at the various events with the pope. The 150 young people are living in the same setting in Cologne as they prepare.

As has been the case with previous World Youth Days, visa problems marred the final days before the event began. In this case, several groups from the Philippines and other developing nations, including one Filipino contingent of 600, were unable to secure the necessary visas in order to make the trip. Delegates from Africa, Latin America, Asia and Eastern Europe have also reported difficulties.

One German press agency reported August 8 that, as of that date, at least 1,000 visa applications for World Youth Day had been denied, and the number was rising. The German Foreign Ministry said the number is in line with normal practice, since eight to 12 percent of visa applications are routinely rejected.

The main concern seems to be that some participants, especially from the developing world, could use the trip to Germany as a backdoor channel of illegal immigration. Recent history lends credence to the concern.

After both of the two most recent World Youth Days, Rome in 2000 and Toronto in 2002, a small group of attendees refused to return to their country of origin, with many remaining behind to file refugee status. Basilian Fr. Thomas Rosica, coordinator of the Toronto event, told NCR that roughly 1,300 participants stayed behind after the 2002 event. Comparable numbers for Rome are hard to come by, but one Italian police estimate at the time suggested that as many as 7,000 participants did not return as scheduled.

This reality presents something of a dilemma for World Youth Day organizers. On the one hand, the Vatican and local church officials want the biggest turnout possible, both because they want youth to have the experience, and because the huge crowds at these events are priceless PR for the Catholic Church. Moreover, they want the developing world to be fairly represented; some criticized the Toronto event, for example, for being a "G8 World Youth Day" because of the visa and economic difficulties some groups from the global south experienced.

On the other hand, it would be irresponsible not to acknowledge the possibility for abuse of World Youth Day by illegal immigrants. Moreover, if World Youth Day were to acquire a reputation for being problematic in this regard, it could become more difficult to persuade countries to host the event.

In one celebrated case from Toronto, 26 Cubans (out of a group of 200) slipped away from their guardians during the final papal Mass and met up with a Cuban exile group, who spirited them into hiding. Many eventually applied for refugee status, either in Canada or the United States.

No doubt alarm bells went off among German officials who reviewed the e-mails that one Filipino agency used to promote attendance at World Youth Day 2005:
Join & Attend the many events, activities & festivities in the Biggest Youth gathering of the World where millions of youth from around the globe participate;
Travel to other countries & Tour EUROPE;
Get a SHENGEN VISA for FREE & EASY (the hardest visa to get in the world; a visa that allows you entry in almost all the countries of Europe; NO NEED TO APPLY IN THE EMBASSY)
AND experience this once-in-a-lifetime opportunity by grabbing the chances & options of Joining without spending your money ...
Again, this is OPEN TO ALL, 16-50 yrs old.. ANY RELIGION is WELCOME...
INVITE ALL your Friends, Relatives, Members, Etc.. WHO MIGHT BE INTERESTED TO JOIN..."
In fact, some of these claims are false; for example, the World Youth Day visa is not valid for travel in other Shengen countries, a point promoters say was corrected in subsequent e-mails.
One German bishop, Franz Kamphaus of Limburg, strongly protested against the visa denial of 14 pilgrims from the diocese of Kumbo in Cameroon. Members of the parish of Frankfurt-Untermainbach, where the pilgrims would have been hosted, also protested against the move of the German foreign ministry.
Kamphaus said he could not understand the reason the German embassy gave for the denial. According to Kamphaus, the reason was that the youth from Cameroon did not have sufficiently deep roots in the country, in terms of family and work, to ensure their return.
"This is usual in Africa," Kamphaus said, arguing that the youth were all named and recommended by bishops in Cameroon.
The situation is complicated by the fact that a number of delegates from Cameroon, among other African nations, remained in Italy after World Youth Day 2000. A priest from the diocese of Kumbo told German radio that the plan was worked out before the delegates left for Rome, which has to some extent "tainted" applicants from Cameroon.
Not all German bishops were critical of the government. Cardinal Karl Lehmann of Mainz noted that some degree of control was necessary in light of past experience, and that it is a problem that all World Youth Days must face.
"You must look at it with a sober mind," Lehmann said.
In the post-9/11 world, security considerations are always paramount at any major event, and World Youth Day is certainly no exception. One German paper reported on August 11, in fact, that since virtually every police helicopter in the country would be diverted to Cologne for the period of the pope's visit, there could be shortages elsewhere. All the choppers, the report said, had been checked and overhauled in recent days. While the pope is on the ground, the report said, at least four helicopters will be in the air at any given time.
Further, a NATO early warning aircraft, an AWACS, will also be cruising to scan the horizon for dangers.
In the lead-up to Benedict XVI's arrival, an anti-graffiti unit called "Cologne anti spray action" patrolled the riverfront, keeping unwanted messages at bay. Manhole covers in the city center were sealed.
For the last seven months, specialists have been searching for unexploded WW II bombs on the banks of the Rhine in Poll, where thousands are expected to gather and listen to the pope speak to them from the boat he's taking down the Rhine to Cologne, called the MS Rhine Energy. Among other things, two bombs with one ton of TNT each were found under the banks and removed.
Similar searches were executed on the Marienfeld plain, a former open-pit mine where Benedict XVI will celebrate the concluding Mass of World Youth Day on Sunday, August 21. Sixty-three unexploded bombs from WWII were identified and removed.
According to the German newspaper Die Welt, more than 12,000 officers from the police, the Bundeswehr, the fire brigade, security services, the Federal Office of Criminal Investigations, and relief organizations are on duty. The newspaper said this figure had been provided by the North Rhine-Westphalian Interior Ministry. Preparations, according to the report, have been underway for three years.
Officials of the Federal Office of Criminal Investigations, supported by the Vatican's Swiss Guard, are responsible for personal protection of the pope. Whenever Benedict XVI appears in public, the streets, bridges, motorways, and even the Rhine River are closed. Private planes are prohibited from flying over Cologne for the duration of the pope's stay.
Though by and large German reaction to the presence of up to one million young Catholic pilgrims from all over the world seems quite positive, not everyone has been thrilled. On Saturday, August 13, three men were arrested for menacing a group of 2,000 pilgrims from 40 nations in a camp near the East German town of Volkenroda. Earlier in the day, the men (15, 18 and 21 years old) had attacked a World Youth Day information tent near the camp, and fired an air gun. When police caught up with them, they were carrying Molotov cocktails in addition to the air gun.
While their motives were not immediately clear, police said they were most likely xenophobes, upset by the presence of so many foreigners on German soil. Anti-immigrant sentiment has been on the rise in Germany; according to a 2004 study by Bielefeld University, some 60 percent of Germans believe their country is "too foreign." Seventy percent of the Germans surveyed said that Muslims in particular do not fit in with Western society, and German society in particular. That figure is up from 55 percent who felt uncomfortable with Muslims two years ago. According to the authors of the study, the current national unemployment rate of 10.5 percent, with rates much higher in the former East Germany, explains some of this resentment.
In a press statement, the diocese of Erfurt, the host of the camp in Volkenroda, expressed "great dismay" about the attack.
"Even if there was alcohol involved," the statement read, "the attack was xenophobic. It could not be a coincidence that young people from all parts of the world were targeted."
"The terrible experience should not stay for too long in the minds of the youths in Volkenroda," the diocese said. "They should rather remember in their life the hearty welcome that their hosts from Thuringen have prepared for them."
One bit of comic relief in the World Youth Day press center emerged on Wednesday, as reporters discovered that certain web sites were being filtered out by the computers set up for the use of journalists. Ostensibly the purpose was to weed out pornographic sites (which is not just pious moralizing on the part of the Catholic Church, but a matter of internet security, since those sites often transmit viruses that can corrupt entire computer systems). Yet it seems that other sites were blocked out by the anti-porn filters, such as the site of a German ecumenical group called Homosexuelle und Kirche, or "Homosexuals and the Church," which has organized programming around World Youth Day, including a prayer service at a Protestant church Thursday evening.
According to press reports, when asked by journalists what the criteria are for which pages are screened out, Fr. Matthias Kopp, the chief organizer for World Youth Day, said he didn't know. This is a familiar problem in American schools and libraries, which have long struggled to set up appropriate filters so the bad stuff doesn't get through but at the same time legitimate sources of information aren't blocked.
One side show in the streets and subways of Cologne is a burgeoning tit-for-tat over Catholics and condoms. Some liberal groups, led by Catholics for a Free Choice, have put up signs around town with the slogan, "Good Catholics Use Condoms." German media reports that Catholics of a different view have begun to strike back, putting up their own signs: "Catholics choose a culture of life. True love waits. Free Catholics make a REAL choice."
The liberal groups present in Cologne, however, who are sponsoring a sort of parallel event called "WYD 4 All," are not just focused on sexual issues. On Thursday, they sponsored two panel discussions, one on a kind of "Peace Corps" for young Christians and Muslims, and another on how one of the official corporate sponsors of World Youth Day allegedly exploits workers in its textile production. On Friday, they're holding a discussion on the Catholic Church and the Third Reich, along with an ecumenical service in the evening.
Live video of World Youth Day streamed over the Internet can be found at http://www.weltjugendtag.tv/
August 18, 2005, National Catholic Reporter